The Brazilian Journal of Operations & Production Management (BJO&PM) publishes research at the forefront of the management discipline in every aspect of operation and production for those concerned with the management of systems, whether in academic institutions or industry. The journal is associated with the Brazilian Association for Industrial Engineering and Operations Management (ABEPRO). Only articles in English are considered for submission and publication.
Please, register to see the journal contents.

Announcements
No announcements have been published.
Vol 9, No 1 (2012): July, 2012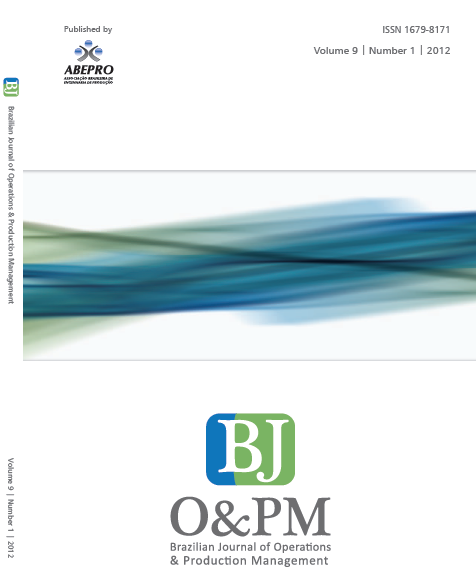 This work is licensed under a
Creative Commons Attribution 3.0 License
.
--
Brazilian Association for Industrial Engineering and Operations Management (ABEPRO)
Av. Almirante Barroso, Nº 63 - Sala 417 - Centro - Rio de Janeiro - RJ - BRASIL - CEP: 20031-003

Todos os direitos reservados © 2008 - ABEPRO - Melhor visualizado no Internet Explorer 5.5 ou superior